Artificial intelligence (AI) medical solutions that aid diagnosis by medical professionals are expanding their domain to skin diseases.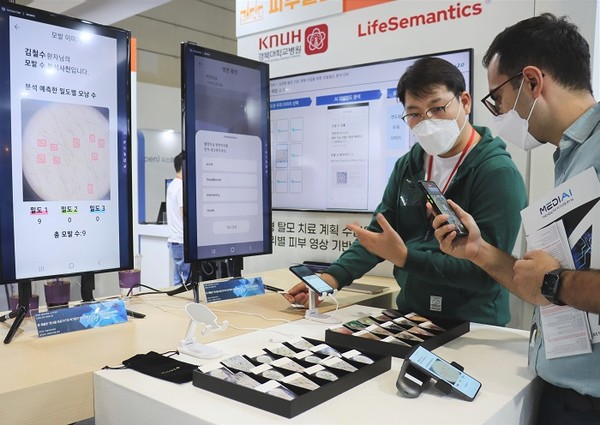 LifeSemantics is one of the most active companies developing AI solutions for diagnosing skin diseases. At the K-HOSPITAL 2022 Fair held from September 29 to October 1, the company presented its AI solution for skin diseases for the first time.
In collaboration with Kyungpook National University Hospital, LifeSemantics developed several software to diagnose hair loss and skin cancer. He was part of the Doctor Response 2.0 Project supported by the Ministry of Science and ICT and the National Agency for the Promotion of the IT Industry. LifeSemantics has initiated the paperwork to receive medical device approval for each of its software.
Among them, the "SW to analyze hair density to establish hair loss treatment plan for men" will probably be used to make plans for hair transplant surgery. According to LifeSemantics, the AI ​​analyzes images of the scalp, detects the density of hair follicles and classifies the types of follicles, which allows estimating the amount of hair that can be harvested and transplanted.
In addition, the "SW to help discern and diagnose skin cancer based on skin images by area" is a solution that reads skin images taken with a smartphone and determines skin cancer, raising expectations to help detect skin cancer. early skin cancer and prevent it. The company developed the software using learning data on basal cell cancer, squamous cell cancer and malignant melanoma.
"We introduced these software solutions to improve the efficiency of early disease identification and treatment while reducing the societal burden of popular diseases such as skin and hair loss," said Kim Eung-hee, team leader. of R&D of the ICT Research Institute of LifeSemantic. , explaining the background for its development.
Recently, the Ministry of Food and Drug Safety also paved the way for the emergence of artificial intelligence medical solutions for diagnosing skin diseases.
On Monday, the regulatory agency designated LifeSemantics' "skin cancer screening and diagnosis software based on area skin image" as a personalized rapid classification item and classified it as the "software for detecting skin image by area". of skin cancer and assist in diagnosis" (E12010.01), a third degree medical device.
LifeSemantics welcomed the ministry's rapid classification and designation of its software solutions.
"It is significant that our solution has been designated as the first case of personalized rapid classification by the Ministry of Food and Drug Safety," said a company official.
Lululab is also accelerating the development of AI solutions for skin disease diagnosis. The company started out as an internal C-lab company of Samsung Electronics before it was spun off from the electronics giant in 2017.
The startup signed a business agreement with Severance Hospital last year to establish a database for AI skin diagnosis and has researched and developed AI that detects, classifies and analyzes 14 chronic skin diseases, including atopic dermatitis, psoriasis and leukoplakia, which cannot be classified with the naked eye since their symptoms are similar.
In July, the company signed an agreement on "joint research to develop an AI skin disease analysis solution" with Hanoi Medical University.
"We can be very competitive in this area because not many companies have commercialized or are developing AI testing products for skin diseases around the world," a company official said. "Although AI does not make a more accurate diagnosis than a doctor, it can help diagnose more efficiently as an auxiliary means."