Based on DelveInsight's assessment, the dynamics of the alopecia areata market are anticipated to change in the coming years due to improvement in diagnostic methodologies, increase in the number of prevalent cases in the 7MM, increased awareness of diseases, incremental healthcare spending around the world, and also awaits the launch of emerging therapies.
DelveInsight's "Alopecia Areata Market Outlook, Epidemiology and Market Forecast 2032The report offers an in-depth understanding of the disease, historical and forecast epidemiology, as well as size, share and trends of the Alopecia areata market in the seven major markets (7MM) (i.e. US, EU5 (Germany, Spain, Italy, France and the United Kingdom) and Japan).
The Alopecia Areata Market Report Covers Emerging Drugs, Current Treatment Practices, Individual Therapies Market Share, and Current and Forecast Market Size from 2019 to 2032. It Also Evaluates Current Treatment Practice/Algorithm, Key Drivers, and Barriers affecting market growth, and unmet medical needs to select the best opportunities and assess the underlying market potential.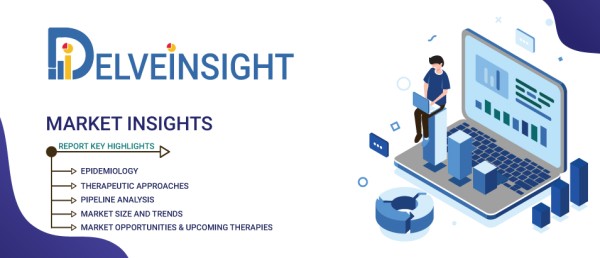 Alopecia areata: an overview
According to the National Alopecia Areata Foundation, alopecia areata (AA) is a common autoimmune skin disease, which causes hair loss on the scalp, face, and sometimes other areas of the body. Affected hair follicles are attacked by a person's immune system (white blood cells), causing seizure of the hair growth stage. Hair follicles remain alive and hair can grow back at any time in alopecia areata.
Alopecia areata usually begins with one or more small, round, or smooth patches on the scalp that can progress to total scalp hair loss or total body hair loss. Genetic predisposition and environmental factors increase the chances of developing Alopecia Areata.
Key facts of the alopecia areata market
According to Chantal Bolduc et al., 2018, the prevalence of alopecia areata (AA) in the general population is estimated to be 0.1-0.2%. The lifetime risk of developing alopecia areata is estimated to be 1.7%. All races are equally affected by alopecia areata and no increased prevalence has been found in a particular ethnic group.

According to NORD, alopecia areata is most common among children and approximately 2.5 million people suffer from alopecia areata in the United States.

According to Herbert Pratt et al. 2017, alopecia areata affects approximately two percent of the general population at some point in their life
The market outlook section of the report helps build a detailed understanding of the historical, current and forecast situation. Alopecia areata market size by analyzing the impact of current and emerging therapies in development. It also provides a comprehensive assessment of market drivers and barriers, unmet needs, and emerging technologies that will impact market dynamics.
The report gives full details of the Alopecia Areata Market Trend for each marketed drug and mid-stage and late-stage therapies evaluating their impact based on the annual cost of therapy, its mechanism of action (MoA), route of administration (RoA), types of molecules, competition with other therapies, brand value , and its impact on the market.
Epidemiological evaluation of alopecia areata
The epidemiology section provides information on historical, current, and forecast epidemiological trends in the seven major countries (7MM) from 2019 to 2032. It helps recognize the causes of current and forecast epidemiological trends by exploring numerous studies and research. The epidemiology section also provides a detailed analysis of the diagnosed and prevalent patient pool, future trends, and the views of key opinion leaders.
Alopecia areata Drug recruitment and development activities for alopecia areata
The drug consumption section focuses on the consumption rate of potential drugs recently launched in the Alopecia areata market or is expected to be released during the study period. The analysis covers Alopecia areata market uptake of drugs, patient uptake of therapies, and sales of each drug.
In addition, the therapeutic evaluation section helps to understand the drugs with the fastest absorption and the reasons behind the maximum use of the drugs. Also, compare drugs based on market share.
The report also covers the Pipeline development activities for alopecia areata. It provides valuable information on different therapeutic candidates at various stages and the key companies involved in the development of targeted therapies. It also discusses recent developments such as collaborations, acquisitions, mergers, patent licensing details, and other information for emerging therapies.
Learn how the alopecia areata market will evolve by 2032 @
https://www.delveinsight.com/sample-request/alopecia-areata-market
Therapeutic Analysis of Alopecia Areata
Currently, there is no cure or FDA-approved treatment for alopecia. Alopecia areata (AA) is the most common form of alopecia and is characterized by patchy baldness on the scalp. The potential for hair regrowth remains, but there is currently no treatment capable of inducing a permanent remission of this disease or approved to treat it. Therefore, the market is completely dominated by unapproved drug treatments.
Some of the key players involved in developing therapies for alopecia areata include:
And many others.
Therapies for alopecia areata covered in the report include:
PF-06651600

Jaktinib

baricitinib

ATI-502

LH-8

CTP-543
And many others.
More emerging medicines and key companies are covered in the report. Download the sample PDF for more information @
https://www.delveinsight.com/sample-request/alopecia-areata-market
Table of Contents (TOC)
1. Key information
2. Executive Summary
3. Competitive Intelligence Analysis of Alopecia Areata
4. Alopecia areata market overview at a glance
5. Background and overview of alopecia areata disease
6. Patient experience with alopecia areata
7. Epidemiology and patient population of alopecia areata (in the US, EU5 and Japan)
8. Alopecia areata treatment algorithm, current treatment and medical practices
9. Alopecia areata unmet needs
10. Key endpoints of alopecia areata treatment
11. Products marketed for alopecia areata
12. Alopecia areata Emerging drugs and latest therapeutic advances
13. Alopecia Areata Top Seven Market Analysis
14. Analysis of attributes
15. Alopecia Areata Market Outlook (in US, EU5 and Japan)
16. Summary of Access and Reimbursement for Alopecia Areata
17. KOL's views on the alopecia areata market
18. Alopecia Areata Market Drivers
19. Alopecia areata market barriers
20. Appendix
21. DelveInsight Capabilities
22. Disclaimer
*The Table of Contents (TOC) is not exhaustive; final content may vary. See the sample report for the full table of contents.
Download the sample PDF to explore the report's key offerings @
https://www.delveinsight.com/sample-request/alopecia-areata-market
Other DelveInsight Trending Healthcare Reports
Alopecia Areata Pipeline Insights, 2022
DelveInsight's "Channeling perspective of alopecia areataThe report provides comprehensive information on 20+ companies Y More than 20 drugs in development in the landscape of the Alopecia Areata pipeline. Covers profiles of drugs in development, including clinical and non-clinical stage products. It also covers therapeutic evaluation by product type, stage, route of administration, and molecule type. It further highlights idle piping products in this space.
About DelveInsight
DelveInsight is a leading business consulting and market research firm focused exclusively on life sciences. It supports pharmaceutical companies by providing comprehensive end-to-end solutions to improve their performance.
Media contact
Company Name: DelveInsight Business Research LLP
Contact person: Shruti Thakur
Email: Send an e-mail
Telephone: 09650213330
Address:304 S. Jones Blvd #2432
City: Las Vegas
Condition: Snowfall
Country: USA
Website: https://www.delveinsight.com/