data sources
The present nationwide cohort study was approved on February 6, 2013 by the Lund Regional Ethics Review Board (Dnr 2012/795 and subsequent amendments), Sweden. Through links with the Swedish Multigenerational Registry and the Swedish Cancer Registry, we identified all adults who have 1 or more first-degree relatives (parents or siblings) diagnosed with CRC using the codes C18, C19, and C18 from the 10th International Classification of Diseases. C20 (north=477,582). The Swedish Multigenerational Registry consists of data on more than 12 million people with available information on their biological parents as well as siblings of the index people. [14]. It has been used in many previous analyzes of familial risk for various types of cancer. The Swedish Cancer Registry, which is based on mandatory reports from clinicians and pathologists/cytologists, has complete coverage of almost 100% of the entire Swedish population.
Evaluation of the use of proguanil/atovaquone
By linking with the Swedish Register of Prescribed Medicines, we retrieved more information on proguanil/atovaquone prescriptions among people with a family history of CRC according to Anatomical Therapeutic Chemical Classification (ATC) code P01BB51. The Swedish Prescription Drug Register was created on July 1, 2005 and includes data on all prescription drugs dispensed from pharmacies covering the entire Swedish population with less than 0.3% missing data [15]. Each record includes the dispense date, ATC code, and Defined Daily Dose (DDD), which is defined as the assumed average daily maintenance dose of a drug for its primary indication in adults. We adopted a new user study design with a half-year washout period to exclude frequent users of proguanil/atovaquone. The entry date was set for January 1, 2006; therefore, people prescribed proguanil/atovaquone before January 2006 were excluded (north=591).
For each user of proguanil/atovaquone, up to 10 comparisons who did not receive a prescription for proguanil/atovaquone and who had not experienced CRC on the date of the corresponding individual's first prescription (index date) were randomly selected based on sex and age at index (Fig. 1 for study design flowchart). In Sweden, proguanil/atovaquone was prescribed for three consecutive days when used to treat malaria. However, it should be started 24 to 48 hours before arrival in the malaria-endemic area and continued throughout the stay when prescribed as prophylaxis. For those people who had multiple prescriptions, proguanil/atovaquone use was intermittent. The most common DDD for each prescription was 6 (45.8%) or 3 (33.1%).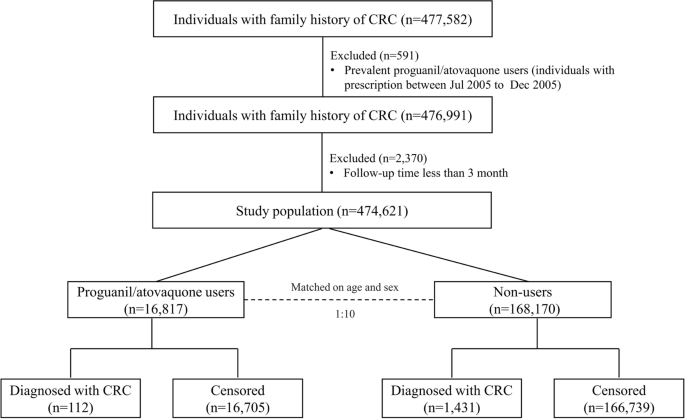 Evaluation of the result
By linking with the Swedish Cancer Registry, we were able to identify patients diagnosed with colon or rectal cancer between January 1, 2006 and December 31, 2018 using ICD codes C18, C19 and C20. The Swedish Cancer Registry contains data on the TNM staging system, including tumor size (T), node status (N), and the presence of metastatic disease (M). By combining the T, N, and M categories, we can determine the stage at diagnosis of CRC, which ranges from stage I (least advanced) to stage IV (most advanced) as follows: stage I ( T1 or T2, N0, M0), stage II (T3 or T4, N0, M0), stage III (any T, N1 or N2, M0), and stage IV (any M1) [16]. By further linking to the Cause of Death Registry, we were able to identify people who had died during the follow-up period and were censored during the analyses.
Participants were followed up from the date of first dispensing of proguanil/atovaquone or the index date in the corresponding comparisons and ending on (i) the first date of CRC diagnosis, (ii) the date of death from any cause, and ( iii) at the end of this study (December 31, 2018), whichever comes first. To minimize reverse causality, patients with a follow-up time of less than 3 months were not included in the study.
Covariate assessment
Retrieving data from the National Patient Register and the Statistics Sweden Total Population Register, we extracted information on potential confounders such as age, gender (male or female), country of birth (Sweden or other), highest educational level (1–9, 10–11, ≥12 years) [15], history of inflammatory bowel disease (IBD, including Crohn's disease or ulcerative colitis, yes/no), history of colonoscopy (yes/no), obesity (identified from the National Patient Registry by ICD-10 code "E66" , yes/no ), chronic obstructive pulmonary disease (COPD, yes/no) as a substitute for smoking, prescription of other medications (statins and statins, yes/no), and Charlson comorbidity index score (CCI, 0, 1, 2, ≥3). As comorbidity is an important factor affecting health status and cancer risk, we calculated the ICC based on a total of 17 categories [17]. Since there is no national recommendation for CRC screening in Sweden, the use of colonoscopy could reflect people's healthy behaviours. [18], which could affect our results, so we included colonoscopy history as a confounder in our multiple regression models. People with missing values ​​of any of the variables mentioned above were excluded from the present study.
The Swedish personal identification number was used to link different records, and was later replaced by Statistics Sweden with serial numbers to ensure the pseudonym.
statistic analysis
Cox regression models were used to calculate hazard ratios (HRs) and 95% confidence intervals (CIs) for CRC associated with proguanil/atovaquone use. The final multivariable model was adjusted for age, sex, country of birth, highest educational level, history of IBD, colonoscopy, obesity, COPD, aspirin use, and statin use. In addition, we calculated the cumulative defined daily doses (cDDD) of proguanil/atovaquone as the sum of the DDDs for all prescriptions during the follow-up period using records from the Swedish Register of Prescribed Medicines. We then performed a dose-response analysis by modeling cDDD as three tertiles and tested for trend by entering the median value of cDDD for each tertile into the regression model. We then evaluated the effect of duration of proguanil/atovaquone administration. The duration was calculated from the date of the first prescription to the end date of the last prescription. We classified the duration of proguanil/atovaquone use into three groups (<1 week, 1 week to 1 year, ≥1 year). In addition, we evaluated the association of proguanil/atovaquone use with the risk of the specific cancer site (colon, rectum) and the specific stage of the cancer (stage I or II, stage III or IV). We also stratified analyzes by age and gender to assess the interactive effects of proguanil/atovaquone on CRC risk.
In addition, we performed several sensitivity analyzes to explore the possibility of chance finds. First, taking biological latency into account and avoiding reverse causality, we performed a sensitivity analysis by delaying exposure to proguanil/atovaquone for 1 year after the first prescription. Second, we excluded people who had been diagnosed with benign colorectal tumors. Third, we investigated the association of quinine use with CRC risk to assess potential indication bias for proguanil/atovaquone use based on the fact that quinine is also a widely prescribed drug for malaria prophylaxis in Sweden. Fourth, to increase confidence in the reported association, we examined subsequent crash risk, which was used as a negative outcome control. Furthermore, considering that data was collected over a long time interval of 12 years in which CRC diagnosis and treatment changed, we performed a stratified analysis dividing individuals into two groups according to their index date (group 1: from January 1, 2006 to December 31, 2011; Group 2: January 1, 2012 to September 30, 2018), to explore whether there was a difference between the two time periods.
All analyzes were performed using SAS, version 9.4 (SAS Institute, Cary, NC).