Patients and ethical issues
The present study enrolled outpatients undergoing sedative endoscopy at the National Hospital Organization Ureshino Medical Center from two prospective studies that examined the utility of MPADSS and the modified Aldrete score, respectively, as discharge standards. Outpatients >20 years of age who underwent esophagogastroduodenoscopy, colonoscopy, or endoscopic ultrasonography under sedation were candidates for the present study. Intravenous sedation was generally not used in patients allergic to midazolam or in pregnant or lactating women, therefore these patients were excluded. Outpatients who underwent therapeutic endoscopy were also excluded from the present study.
This study was conducted in accordance with the principles of the Declaration of Helsinki and the Consolidated Standards of Trial Reporting (CONSORT) guidelines. The study protocol and consent procedure were approved by the Ethics Review Committee of the Ureshino Medical Center of the National Hospital Organization (approval number 19–03), and the study was registered in the Clinical Trials Registry of the Network of Medical Information of the University Hospital (UMIN) (UMIN000037259). ) on July 3, 2019.
Sedation and monitoring
Sedative and analgesic drugs were generally used as follows: An initial bolus of midazolam (3 mg for patients with body weight < 50 kg and 4 mg for patients with body weight ≥ 50 kg) was administered through a catheter intravenous. When patients showed signs of discomfort, restlessness, agitation and/or response to verbal commands, 1 mg of midazolam was added as appropriate. [5]. Analgesic agents (7.5 mg pentazocine or 17.5 mg pethidine hydrochloride) were also used if necessary. Analgesic drugs were selected by each endoscopist, taking into account the age or physical condition of the patient.
Vital signs, namely blood pressure, heart rate, and blood oxygen saturation were recorded before induction of sedation. During endoscopy, vital signs were monitored every 5 min. When oxygen saturation was <92%, supplemental nasal oxygen (2 L/min) was administered. When a patient's vital signs fluctuated by ≥ 20% compared to baseline, the endoscopic procedure was temporarily stopped until values ​​returned to baseline.
Flumazenil, a benzodiazepine antagonist, was given after endoscopy when needed.
Evaluation of patients' conditions after sedative endoscopy
The clinical condition of each patient after sedative endoscopy was assessed by nurse-administered MPADSS as discharge standard in 181 outpatients from July 2019 to January 2020 (group M). Patient conditions were assessed using a modified Aldrete score administered by nurses in 195 outpatients from July 2020 to December 2020 (group A). In both studies, the patients' conditions were determined 60 minutes after endoscopy. When the MPADSS or modified Aldrete score reached ≥ 9 (maximum score: 10), patients were allowed to be discharged from hospital. Otherwise, the evaluation was repeated every 30 min. When patients did not achieve a MPADSS or modified Aldrete score ≥9 3 h after endoscopy, the patient was admitted to the hospital.
Data collection
By reviewing the electronic medical records of the patients, the following demographic data were collected: age, sex, alcohol consumption, smoking, body mass index, physical status classification of the American Society of Anesthesiologists (ASA-PS), history endoscopy and comorbidities (including Charlson Comorbidity Index score). Endoscopy-related data, namely types of endoscopy (upper or lower gastrointestinal endoscopy, or endoscopic ultrasonography) and endoscopic results (time of procedure, types and amount of sedative, analgesic dose, antagonist, and specialty of endoscopist) and events Periprocedural adverse events (unstable vital signs indicated by a ≥ 20% decrease from baseline) were collected by chart review.
After sedative endoscopy, MPADSS or modified Aldrete score at 60 minutes, recovery time, and vital signs before discharge were measured. Adverse events before discharge and the need for hospitalization were recorded. Adverse events within 24 h of discharge were investigated by telephone questionnaire the day after endoscopy.
Study endpoints
The primary endpoint of the present study was the difference in discharge time after sedative endoscopy between the two groups. The secondary endpoint was the difference in the rate of adverse events before discharge, need for hospitalization, and adverse events within 24 hours of discharge between the two groups.
Sample size calculation and statistical analysis
The sample size was estimated based on previously published results. [17] and on the results of previous data performed with endoscopy in our hospital from July 2018 to June 2019. Based on these studies, we assume that the rate of recovery time within 60 minutes after endoscopy is 45% . We hypothesized that a 20% difference in the rate of recovery time between the two groups would constitute a clinically significant difference. Assuming a power of 80% and an alpha of 0.025 (one-sided), at least 214 patients (107 patients in each group) would be needed in this study. Assuming that 10% of patients might be lost to follow-up, a sample size of 236 patients (118 patients in each group) was planned.
Propensity score matching analysis was used to assess the clinical utility of MPADSS and the modified Aldrete score as discharge criteria. This method was used to adjust for significant differences in baseline patient characteristics and to minimize the influence of potential confounders. [18, 26]. The two groups were matched 1:1 (120 patients in each group) with adjustment for seven covariates (age, gender, ASA-PS classification, comorbid malignancies, procedure time, mean midazolam dose, analgesic use ) to minimize inherent bias (Fig. 1). These seven covariates were selected based on the opinions of expert endoscopists (DY, TM, NH, YT, and ST). This model yielded a C statistic of 0.754, indicating preferable ability for comparison between groups M and A. The propensity score matching gauge width was 0.20.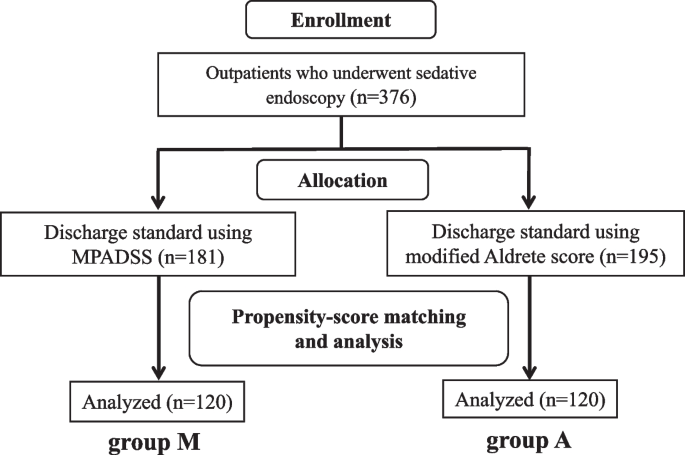 Categorical data were expressed as frequency and percentage, and the chi-square test was used to identify differences between the two groups. Normally distributed numerical data were expressed as mean ± standard deviation and Student's you-test was used to determine differences between the two groups. Numerical data with a skewed distribution were expressed as median [interquartile range]and the Mann–Whitney your-test was used for comparisons between groups. Significance levels for all comparisons, regardless of statistical significance, were reported as P values ​​or confidence intervals. A P value <0.05 was considered statistically significant for each test. All statistical analyzes were performed with JMP version 13.2.0 (SAS Institute Inc., Cary, NC, USA).