The hospital has not exceeded its capacity to care for children, but that could easily change, says Dr. Jonathan DellaVedova.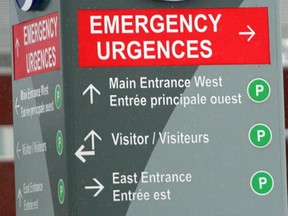 article content
Sault Area Hospital has "absolutely" seen an increase in emergency room visits and hospital admissions for children with respiratory infections, says the facility's chief of pediatric and neonatal services.
article content
Doctors have seen "quite a bit of rhinovirus (ie, the common cold), but also COVID-19, parainfluenza, human metapneumovirus, RSV, and they expect influenza to "come on at any moment," Dr. Jonathan DellaVedova told the Sault. Star Friday.
"Now that the hospital is doing nasal swabs regularly for COVID, the swabs can also identify which virus is the cause," DellaVedova told the Sault Star on Friday.
RSV tends to cause common cold symptoms in older children and adults. However, in children under the age of two or those with chronic health problems, RSV infection can be serious.
"A small proportion of these patients will require hospital admission for monitoring, oxygen, or even assisted ventilation," DellaVedova said.
article content
Until a couple of years ago, RSV infections had a defined season, usually December through March in northern Ontario.
Pediatricians across the country expect to be "twice as busy" during the winter compared to the summer, DellaVedova said.
"However, in the past year, we have seen a steady stream of RSV infections throughout the spring, summer and fall…This is unheard of," he added. "There was a particular spike in September when children are back in schools and nurseries, and another now that the weather is getting colder."
Most pediatricians are "in no doubt" that the change is due to all the "successful" public health measures that were lifted earlier this year.
"We basically didn't see RSV last winter, which left a gap in immunity and now a wave of infections," DellaVedova said.
article content
Ontario children's hospitals are especially reporting longer-than-usual wait times as providers see rising rates of respiratory illness amid scrapped public health measures and continued worker shortages, and experts say the situation it could get worse as cold and flu season picks up.
So far, Sault Area Hospital has not exceeded its capacity to care for children.
That could "easily" change, DellaVedova said.
"We have fantastic health care providers on the SAH pediatric unit, but it is a small unit that could quickly be overwhelmed by just a handful of admissions," she said, adding that the facility remains short on nursing staff.
"We are also aware that children's hospitals are well over capacity, so if we have a critically ill child on a ventilator, we are concerned that we will not be able to transfer them to a Pediatric Intensive Care Unit. We could potentially have to make do with our more limited resources here, which is less than ideal."
article content
Parents, DellaVedova said, can help in the situation if their children are not going to school or daycare if they have respiratory symptoms. They can also avoid a visit to the emergency room if your children only have a cough and runny nose or a low-grade fever for less than three days.
They should "absolutely" visit the emergency room right away if their child is having trouble breathing or is showing signs of difficulty breathing, he added.
Algoma Public Health reported Thursday afternoon the first two confirmed cases of influenza A this respiratory season in the Sault Ste. Maria area.
"We're also pleading with parents to get their children vaccinated against the flu starting at six months," DellaVedova said. "This is a safe and effective way to reduce the burden of respiratory disease on their children and on our hospital. If the health care system is overwhelmed now, we can only imagine what the situation will be once influenza emerges."
— with Postmedia Network archives
jougler@postmedia.com
On Twitter: @JeffreyOugler