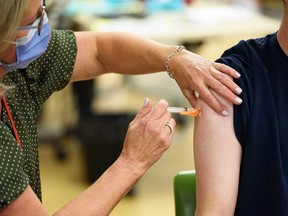 article content
Trends in respiratory illness in Windsor-Essex and beyond have prompted a joint letter from the region's health care leaders urging the public to get a flu shot and update COVID-19 vaccines.
article content
Released Thursday morning, the letter expresses concern that this season's influenza virus will "spread more rapidly and more aggressively," while the threat of COVID-19 remains and local hospitals face "systemic pressures that they continue to put pressure on our institutional capacity."
article content
The letter is signed by the region's Acting Medical Officer of Health, the head of Essex-Windsor EMS, as well as the CEOs and chiefs of staff of each of the region's hospitals.
"Today, we are asking the residents of this region to once again do their part to address the spread of these dangerous viruses," the letter says.
According to the letter, getting an annual flu shot and keeping up with the COVID-19 vaccine are "simple and effective ways" to limit the spread of the disease, reducing the burden on the Windsor-Essex health care system. .
article content
Windsor Regional Hospital CEO David Musyj said the necessary social isolation since March 2020 has been a factor in making this flu season worse than normal.
"You have to remember that we closed in January of this year," Musyj told the Star. "We've been coming out of it. That is why the issue of the pandemic is dramatic. Many young children have not been exposed to any type of virus for two years."
Influenza and COVID-19 are not the only causes for concern: the US has seen an increase in cases of respiratory syncytial virus (RSV), a common winter virus that causes mild symptoms similar to cold in healthy people, but potentially dangerous for infants and the elderly.
article content
Musyj said WRH saw 41 RSV cases in October, which is "very high" compared to the numbers the hospital usually treats.
"We are seeing increased demand in our pediatric area, for sure," Musyj said, noting that WRH has been accepting patients from other parts of the province where hospital systems are even more overtaxed.
"Right now Ottawa, GTA (Greater Toronto Area) and Kitchener-Waterloo are struggling, more so than Windsor-Essex," Musyj said.
"It could be worse (locally). Unfortunately, that's probably where we're headed."
article content
Musyj said that when Windsor-Essex health care partners had discussions three months ago about the burden of disease during the fall and winter, the outlook at the time was that late December and early January would be the most problematic period. .
"That has escalated so far," Musyj told the Star. "It's really starting now."
Flu shots are available to all Ontarians over six months of age.
The bivalent COVID-19 vaccine, intended to target the now-dominant Omicron variant, is now available to all Ontarians ages 12 and older.
Windsor-Essex's vaccination rate for COVID-19 booster shots remains below the provincial average.
While 80.9% of all residents in the region have received at least two doses of the COVID-19 vaccine, only 16.4% have received a fourth dose, and statistics have changed little in recent years. four months.