One thing we have learned in the last two years is the value of medical-style face masks in slowing the transmission of airborne viruses.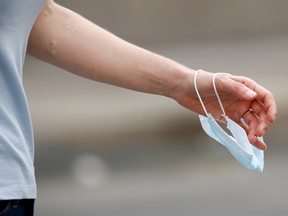 article content
I was on a date last week. As I was getting ready to leave, a woman came in blowing her nose, taking a pill and coughing. I heard her tell the person she was going to see not to worry about her because she was not COVID. However, she was visibly very ill. This presented an awkward situation for the service provider, who clearly did not want to turn away a client or jeopardize his or her own health; he donned a mask in an effort to protect himself from airborne germs.
article content
As we navigate this not-so-post-pandemic world, we must change the way we do things and allow common sense to take the wheel. Nobody wants to get sick. Not a cold, not the flu and certainly not COVID.
article content
One thing we have learned in the last two years is the value of medical-style face masks in slowing the transmission of airborne viruses. Asians, particularly in Japan, China and Taiwan, they have been wearing masks for various health-related reasons since at least the 1950s, but in Western cultures, masks they were not something we would easily look for. It may be time for those with any type of respiratory disease take a page from the book of Asians.
It is true that the mandates that we have had in the last two years made us sick and tired of using them. I get it. I have absolutely no desire to wear a mask if I don't have to. But if I'm not feeling well and I'm worried I might be contagious, I'll do it to protect those around me.
article content
COVID is certainly not the only reason (although it should be remembered that rapid tests have been known to show false negatives). Tthere are plenty of other bugs floating around here. With colder weather comes cold and flu season. We've had a couple of unique years; in 2020, no flu virus was actually circulating due to the use of masks, lockdowns, and quarantines. Last year, flu cases were still relatively low; we were also under a mask mandate, which helped contain viruses.
This year, however, the flu seems likely to return with a vengeance and contribute to increased crowding in hospital emergency rooms. which on Tuesday reached 200 percent at Montreal Children's and 232 percent at General Jew.
I saw a post the other day on social media from someone sharing a photo of their newborn baby in a stroller with a sign that said "No touching or kissing please," and I applaud it. It's pretty simple, if you're not feeling well, don't go visit someone with a newborn or young child. Not worth it. It is imperative that you set limits to protect the health of your child and her family.
article content
I'm not saying that wearing masks is a cure-all, but it is something we can do to help ourselves and others. it was interesting to see a report this week that Quebec Ministry of Health officials are considering whether to officially recommend the use of masks to stop the spread of respiratory viruses.
As the old saying goes, an ounce of prevention is worth a pound of cure. Get vaccinated against the flu it's another sensible precaution, particularly for those whose age or health makes them vulnerable, and in Quebec these are offered free of charge to the elderly and others in various categories considered high risk.
Getting enough sleep and eating properly are also important; many also rely on vitamins.
Each of us should do what we can to help keep our immune systems strong and take preventive measures, both for our own good and to reduce the burden on our health care system.
Fariha Naqvi-Mohamed is the founder and editor-in-chief of CanadianMomEh.coma lifestyle blog.