Conscious Medicine (678-629-3833), a holistic wellness practice in Duluth, Georgia, is now working with women who have polycystic ovary syndrome (PCOS).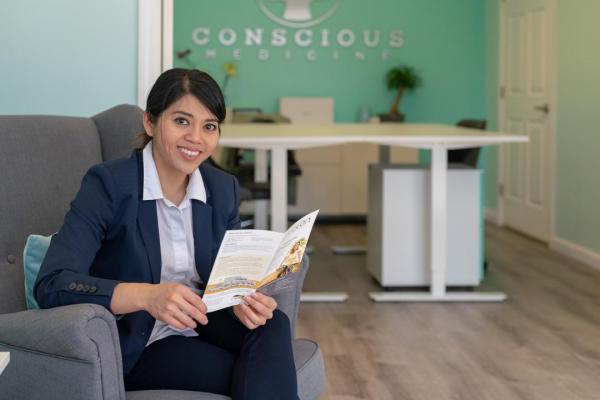 Duluth, United States – November 3, 2022 —
Conscious Medicine has a new branch dedicated to Polycystic Ovarian Syndrome (PCOS) and offers new treatment plans for women looking to manage the common condition and its symptoms. The practice recognizes that PCOS is still underdiagnosed and women are often told by conventional doctors that there are no treatment options outside of hormonal birth control pills. As such, they offer innovative healing approaches to help the many women who suffer from this condition.
More details can be found at http://conscientemed.co
As part of its recently launched offering, Conscious Medicine develops an individual holistic treatment plan that covers all aspects of a patient's lifestyle and helps improve their sleep patterns, balance their testosterone levels through strength training low impact and control your stress levels.
Conscious Medicine helps women make meaningful, positive changes to their diet, focusing on keeping blood sugar levels low, regulating insulin, and stimulating healthy gut bacteria.
The launch of the practice's services coincides with the latest figures from the US Office on Women's Health (OASH). Despite persistent underdiagnosis, it is now clear that PCOS affects 1 in 10 American women of childbearing age.
PCOS got its name because it refers to the small fluid-filled sacs, or cysts, that form inside the ovaries of a woman with the condition. These cysts affect a woman's ovaries and therefore her hormonal cycle, often drastically. PCOS has implications for the endocrine system, metabolism, fertility, skin, general health and well-being of women.
On a daily basis, due to the excess testosterone produced by these cysts, women with this condition often report unwanted body hair growth and head hair loss, acne, heavy or irregular menstrual periods, headaches, and increased weight.
More information on the signs and symptoms of the condition is available at http://conscientemed.co/que-parece-un-barriga-de-pcos-
With all of these symptoms in mind, Conscious Medicine believes it is imperative that better help is available for women with PCOS. For those women who suspect they may be suffering from the condition, holistic and integrative doctors can help identify the causes and symptoms of the problem. They can also guide women to nearby testing facilities to get an official diagnosis.
Women outside of Duluth or Georgia can take advantage of the practice's services by contacting their virtual care team.
Conscious Medicine is led by functional medicine expert Dr. Truc Nguyen. The practice offers its patients comprehensive, holistic lifestyle management solutions and a progressive healthcare approach that puts wellness first.
A spokesperson for the clinic said: "Polycystic ovary syndrome can be controlled through treatment. Here at Conscious Medicine, we will help you find a more natural and holistic approach to managing your condition."
More information is available at http://conscientemed.co/Cual-es-el-mejor-síndrome-de-ovario-poliquístico-ejercicio-físico
Contact information:
Name: Dr Truc Nguyen MD
Email: Send an e-mail
Organization: Conscious Medicine
Address: 6601 Sugarloaf Parkway, Duluth, Georgia 30097, United States
Phone: +1-678-629-3833
Website: https://consciousmed.co/
Version ID: 89084215
If you spot any problems, issues, or errors in the content of this press release, please contact [email protected] to notify us. We will respond and rectify the situation within the next 8 hours.
COMTEX_418013029/2773/2022-11-03T06:05:35