"Many people don't take photos after a cancer diagnosis because they fear changing their appearance or that those photos will be used as a funeral portrait. However, at the event held by the Integrated Support Center for Cancer Survivors at the National Cancer Center (NCC), photos of some cancer survivors were taken, which shows a little change to return to society."
So said Jung So-youn, director of the support center, during HiPex (Hospital Innovation and Patient Experience Conference) 2022 at Myongji Hospital in Goyang, Gyeonggi Province, organized by The Korean Doctors' Weekly, the pater brother of Korea Biomedical Review, and KPMG Korea, on Thursday.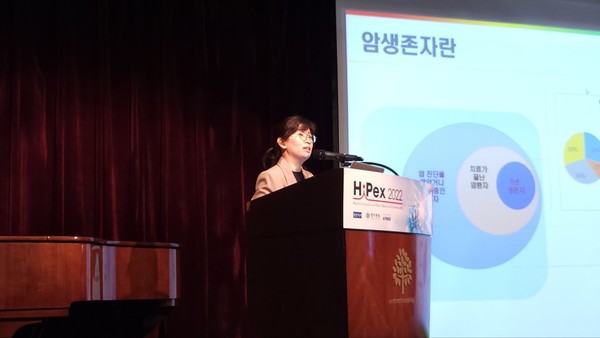 Jung stressed that hospitals should change cancer management services for survivors. Existing cancer care services focus on diagnosis and treatment, but should be expanded to help survivors return to society after treatment.
As the cancer survival rate increases, it becomes important to manage the sequelae in survivors for their return to society after treatment.
According to a five-year cancer survival rate survey conducted by the Ministry of Health and Welfare and the National Cancer Center, survival rates increased between 1993 and 2019. For example, the survival rate for thyroid cancer was 94.5% between 1993 and 1995. But it increased to 100% between 2015 and 2019. During the same period, the survival rate for breast cancer increased 14.4 percentage points to 93.6%.
"Cancer survivors visit an emergency room for fear of recurrence if they are in pain. If they experience (such a situation) several times, they cannot sleep and fall into a depressed mood," Jung said. "The combination of various mental, physical and social difficulties appear after cancer treatment."
Emphasizing that cancer must be managed with the goal of returning cancer survivors to society in a healthy way, Jung noted that medical professionals must not only treat them with accurate information, but also offer opportunities for cancer survivors to go out and enter society.
Jung then presented his experience leading cancer survivors back into society, using an event held at the Integrated Support Center for Cancer Survivors as an example.
The Ministry of Health and Welfare started a pilot project for the integrated support of cancer survivors in July 2017. In addition to NCC, the ministry selected 13 medical institutions in the country, including Gil Hospital of Gachon University and Hospital of Chungnam National University, to establish and operate the regional chapters of the support center.
According to Jung, integrated support centers are designed to promote the health of cancer survivors and their families and help them return to society by providing services for their physical and mental health, information, education, and social and economic issues.
"Private companies also cooperate to provide support to survivors. For example, a global medical company took photos of cancer survivors and their families and taught them photography techniques," she said. "Some survivors did not take photographs for fear of changing their appearance or using them as funeral portraits. However, small changes for his return to society occurred during the event."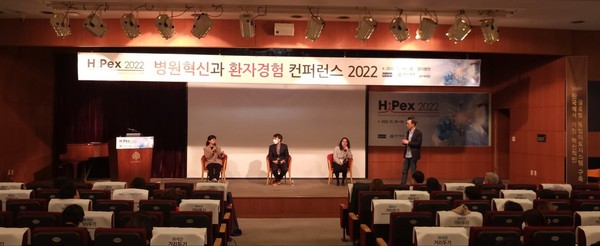 Han Yun-dae, an anal colorectal surgeon at Severance Hospital, analyzed the cause of difficulty returning to society after treatment from a surgeon's perspective.
"The weapon of surgeons is surgery, so they seek to cure her completely through surgery. As a result, they are less interested in patients who outgrow cancer after treatment," Professor Han said. "For example, the arms of breast cancer patients might be swollen due to lymphedema after surgery and, in the case of colorectal cancer, cured patients could carry an intestinal sac."
Since cancer surgery causes body structural changes and physical sequelae, it is necessary to manage complications and sequelae and induce changes in social consciousness in an integrated manner, Han added.
"In cancer treatment, local communities and family management must be interconnected. More people should think about it," she said. "It is necessary to establish adequate fees, establish guidelines for treatment and solve the problem of the whereabouts of the responsibility on the recurrence of cancer."
Professor Park Hye-yun from the Department of Neuropsychiatry at Seoul National University Hospital pointed out that cancer survivors experience psychological and social difficulties after treatment, stressing that it is important to think of living a new life after overcoming cancer.
"Patients are the ones who most want to return to normal life. However, they suffer from fatigue, pain and fever due to chemotherapy and antihormones, realizing that the reality is different, "he said. "They can bridge the gap only by remaking a post-treatment life instead of trying to go back to before the cancer outbreak."
Professor Park emphasized that survivors need adequate physical activity, healthy eating and regular sleep while receiving social support from family, friends and acquaintances.