For most Malaysians, and many Singaporeans, the city of Mersing is best known as the place to catch a ferry to the well-known resort islands of Pulau Tioman and Pulau Rawa.
Coming from Johor Baru, it can be a long and challenging journey, braving a winding road approximately 120 kilometers long.
Unfortunate collisions with wildlife have been known to occur while traversing the single lane highways of the East Coast.
Monkeys can often be seen on the road, and reports of motor vehicle accidents with other wildlife including wild boars, tigers and elephants have also been reported in the past.
While the animal is likely to suffer more, the result for humans involved in such accidents can also be serious.
These injuries can range from trivial cuts and abrasions to serious injuries to the head, neck, chest, and abdomen.
Such trauma cases are usually rushed to Mersing Hospital, the nearest emergency treatment and stabilization facility, before being transferred to Sultan Ismail Hospital (HSI), a specialized tertiary hospital in Johor Baru.
Mersing Hospital is built right next to the beach, allowing its patients and staff to witness beautiful sunrise views like this one.
Expansion of surgical services
Mersing Hospital is a district hospital that was established in 1917 to serve the health needs of the approximately 71,000 local residents.
As a district hospital, it is staffed by doctors and currently has no permanently assigned medical or surgical specialists.
Before 2017, all patients requiring surgery were referred to HSI, which serves eight districts (including Mersing) and more than 700,000 citizens in Johor state.
However, the introduction and roll-out of the Global Surgery initiative by the Ministry of Health in 2015 now means that instead of patients going to the surgeon, the surgeon goes to the patients.
One of Global Surgery's five goals is to provide safe, accessible and affordable surgical and anesthetic care for all.
This is because the provision of surgical services is crucial to saving lives and preventing patient disability.
Mersing Hospital, along with Kota Tinggi Hospital, was identified and grouped under the Johor East Coast Group Hospitals, for this purpose.
To bring surgery to the Mersing district, a new building with an operating room was built and opened in 2017.
Since the beginning of 2019, HSI surgeons have traveled to Mersing Hospital every month to perform minor elective surgeries for local residents.
This arrangement became regular one-week periods beginning in August (2022), with each of HSI's eight general surgeons traveling to and staying approximately one week each in Mersing as a resident surgeon.
This allows for broader coverage of general surgery services, including running general surgery clinics and performing both emergency and elective surgeries.
A collaborative team effort is crucial to ensure surgical services are optimized and run smoothly.
Mersing Hospital's primary care team and HSI's general surgery and anesthesia departments work together to ensure that patients receive the best care during and after surgery.
This joint effort to bring surgery directly to local residents' doorsteps has helped reduce wait times for surgery and the inconvenience and burden of travel for patients.
all kinds of surgeries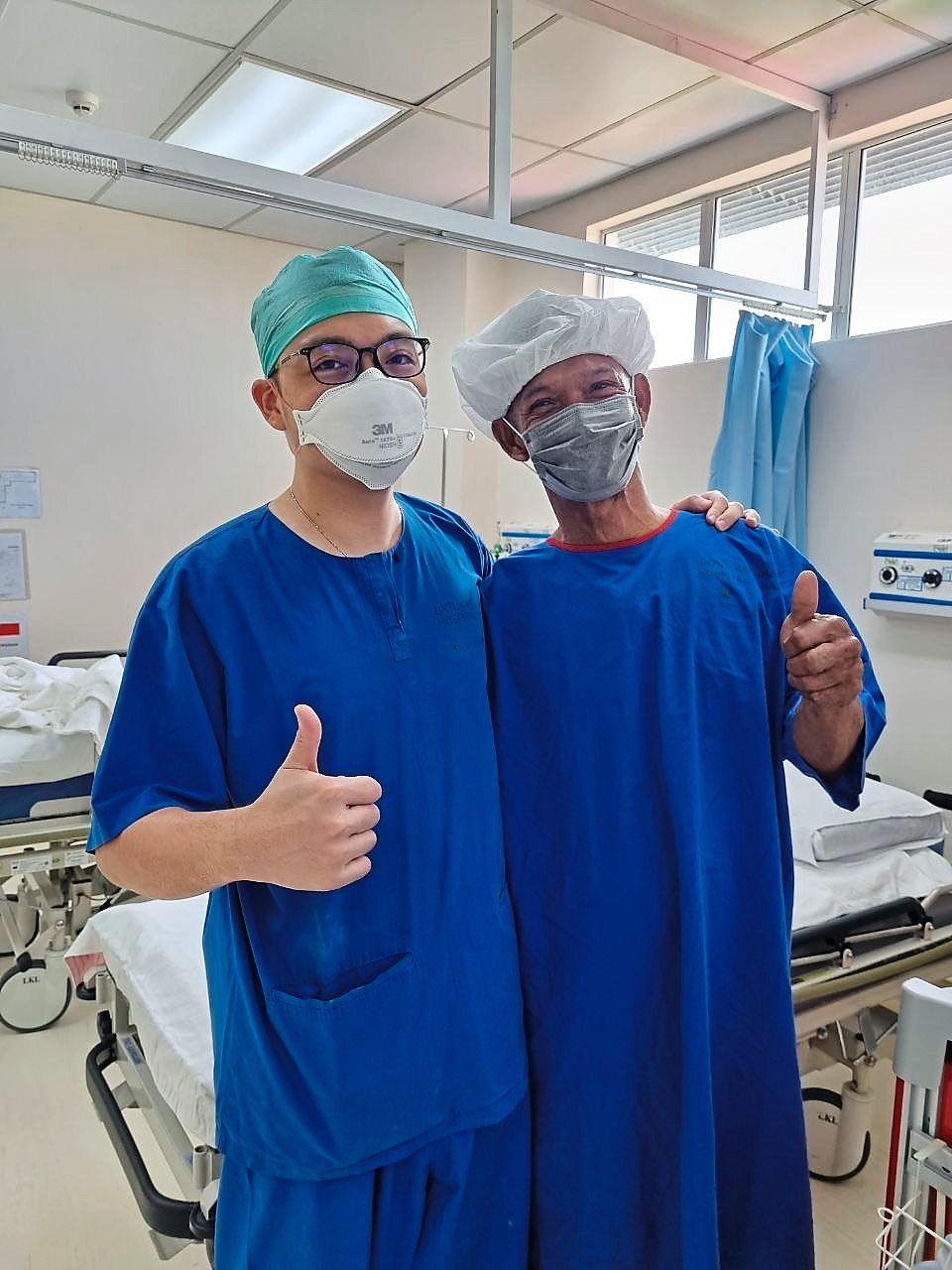 The writer (left) with one of his very satisfied patients, the 50-year-old man who had a growth on his chest that was removed within 24 hours of his visit to the surgical clinic.With this system in place, Mersing Hospital's on-site surgical team will carefully assess any emergency cases that arise.
Often the team can perform any necessary surgery on site, especially in simple cases.
Such procedures include appendectomy (removal of the appendix); drainage of mammary, perianal and skin abscesses; circumcision for infections of the foreskin of the penis; and saucerization of skin carbuncles (ie, cutting out the diseased parts).
However, certain cases still need to be referred to HSI.
These include cases that require certain diagnostic or research equipment that is not available at Mersing Hospital, such as a CT (Computed Tomography) scanner.
Most trauma cases are handled solely by HSI's general surgery team, who are trained to treat a variety of traumatic injuries.
Other conditions that should be referred to HSI include small/large bowel obstruction, bleeding from stomach ulcers, small or large bowel perforations, and severe gallbladder infections.
However, these are a small portion of the cases that are handled by both HSI and Mersing Hospital.
Of course, it is a daunting task for the Mersing team to be on the front lines managing such a wide variety of emergency surgery cases.
But being able to offer immediate specialized surgical evaluation and treatment has certainly helped many patients recover.
Being on site also allows surgeons to assess the need for elective surgeries and perform them.
Elective surgery generally refers to a condition that requires consultation or surgical attention, but not urgently or immediately, depending on each case.
Such conditions can be divided into benign and malignant, of which suspicion of malignancy requires a more rapid investigative approach.
Examples of malignant cases include breast, colon, rectal, gastrointestinal, and thyroid cancer.
Meanwhile, benign cases that require surgery include abdominal wall hernias, noncancerous breast lumps, skin and soft tissue lumps, gallbladder surgery, and circumcision, among others.
Cases coming into Mersing Hospital are screened first, then scheduled for surgery or referred to HSI if necessary, for example for more complex cases or those that need more imaging.
The hospital routinely detects many of these cases during check-ups and health screenings.
Additionally, HSI surgeons are also providing endoscopic procedures, including upper endoscopy and colonoscopy, for Mersing residents.
These procedures play a critical role in screening for stomach and colon cancer, as well as early detection of premalignant growths (polyps) in the digestive system.
Upper endoscopy is also absolutely necessary for bleeding ulcers in the esophagus, stomach (gastric), and small intestine (duodenum).
This procedure has saved many lives by allowing surgeons to stop such bleeding.
After stabilization by the primary care team at Mersing, patients experiencing this type of bleed are often rushed to HSI for emergency endoscopy.
It's not all work, as the writer samples the local food during his week-long stint as a visiting surgeon at Mersing Hospital.
convenient and fast
Many patients have benefited from the ease and convenience of this arrangement.
For example, one of my patients, a 68-year-old housewife from Mersing, was diagnosed with breast cancer.
We were able to perform her surgery at Mersing Hospital to remove the breast with cancer, along with the lymph nodes in her armpit (ie, a mastectomy and axillary cleansing).
His surgery was uneventful and he went home well.
A follow-up two weeks after his surgery showed that his wounds had healed well and that he was well enough to undergo systemic therapy to ensure all the cancer was removed.
She is expected to make a full recovery from her breast cancer upon completion of cancer therapy.
Another patient is a 60-year-old rectal cancer survivor.
She was also able to have surgery at Mersing Hospital to remove the cancer.
At that time, an opening of the small intestine (ileum) is created to the outside of the body to allow the passage of digested food.
After recovering from surgery and being certified cancer-free, her small bowel closure (ileostomy reversal) was scheduled, also at Mersing Hospital.
She had an uneventful surgery and was released five days after her operation.
Both cases illustrate how local access to surgery allows for reduced waiting time, which is especially important in cancer, and the convenience of performing the procedure closer to home.
Another case of mine involved a 40-year-old man who had a swelling in his armpit for nearly six years.
Little by little it grew in size, which caused great discomfort when moving the arm.
Despite being large and close to the axilla, especially the axillary vein, the surgery was performed successfully without affecting any of the axillary structures.
The patient recovered well with no further problems.
The next patient is a 50-year-old man who works as a school janitor.
He developed a swelling in his chest for six years, which became more prominent in size.
After feeling a lot of discomfort and fear due to the growth development from the initial size of a coin to its ultimate size of a ping pong ball, he finally decided to come and seek treatment at the surgery clinic of Mersing Hospital.
After careful evaluation and examination, he was immediately scheduled for surgery the next day.
The operation to remove the swelling was performed as a nursery procedure, where patients are not required to stay overnight in the hospital.
The excision was successfully performed with only a small injection to numb the surrounding skin (local anesthesia).
His recovery was uneventful and he was discharged on the same day as planned.
The patient never expected the surgery to be performed so quickly, with the effect of six years of discomfort relieved in 24 hours.
The satisfaction and relief he expressed after the surgery certainly gave me a great sense of accomplishment.
The writer (center) thanks his family, including (from left) his mother-in-law, wife, and parents, for their support and help in caring for his young children, allowing him to work and travel to Mersing Hospital without worry.
Dr. Henry Tan Chor Lip is a General Surgeon at Sultan Ismail Hospital, Johor Baru. For more information, email starhealth@thestar.com.my. The information provided is for educational and communication purposes only and should not be considered medical advice. The star makes no warranties about the accuracy, completeness, functionality, usefulness, or other warranties as to the content appearing in this article. The star disclaims all liability for loss, property damage, or personal injury suffered directly or indirectly from reliance on such information.